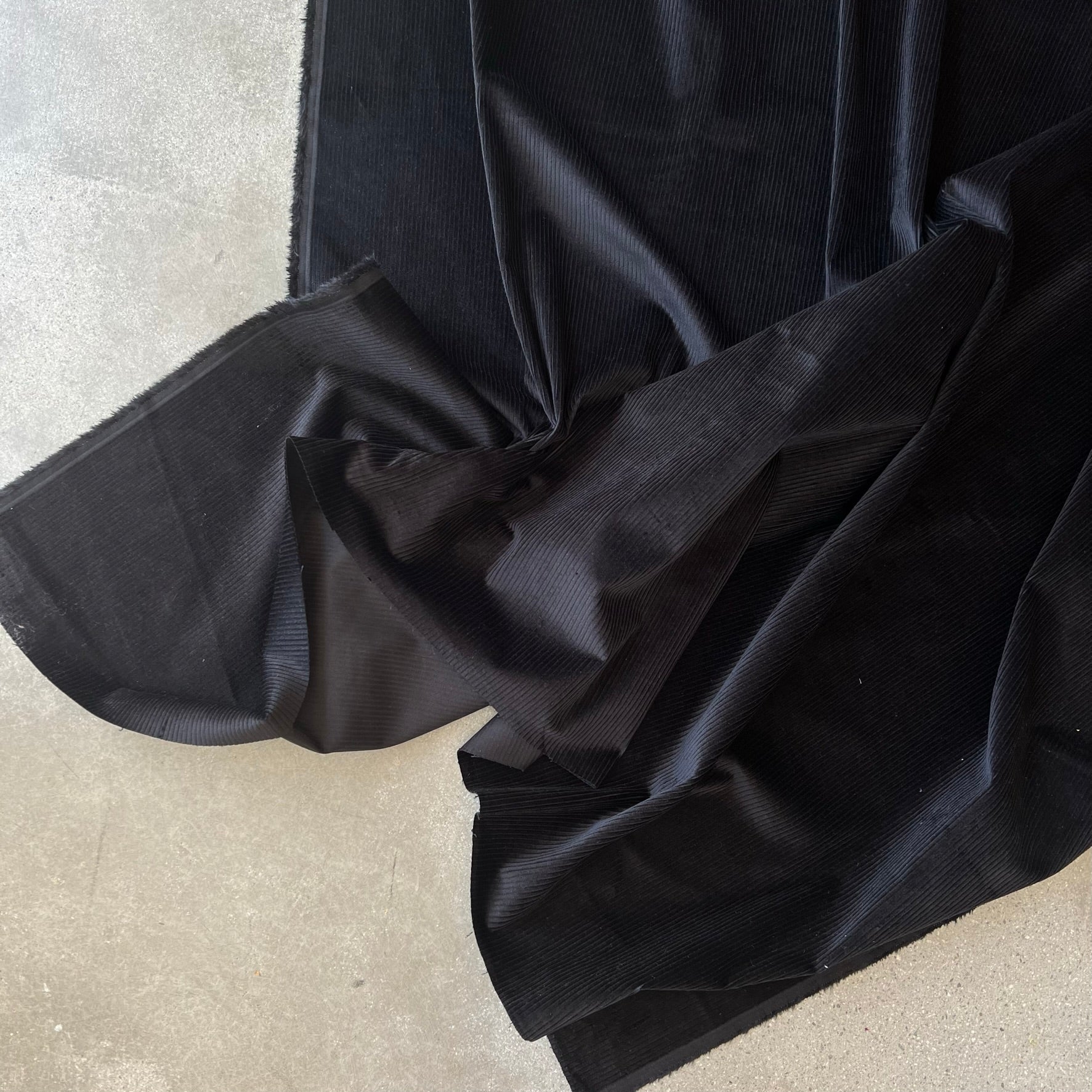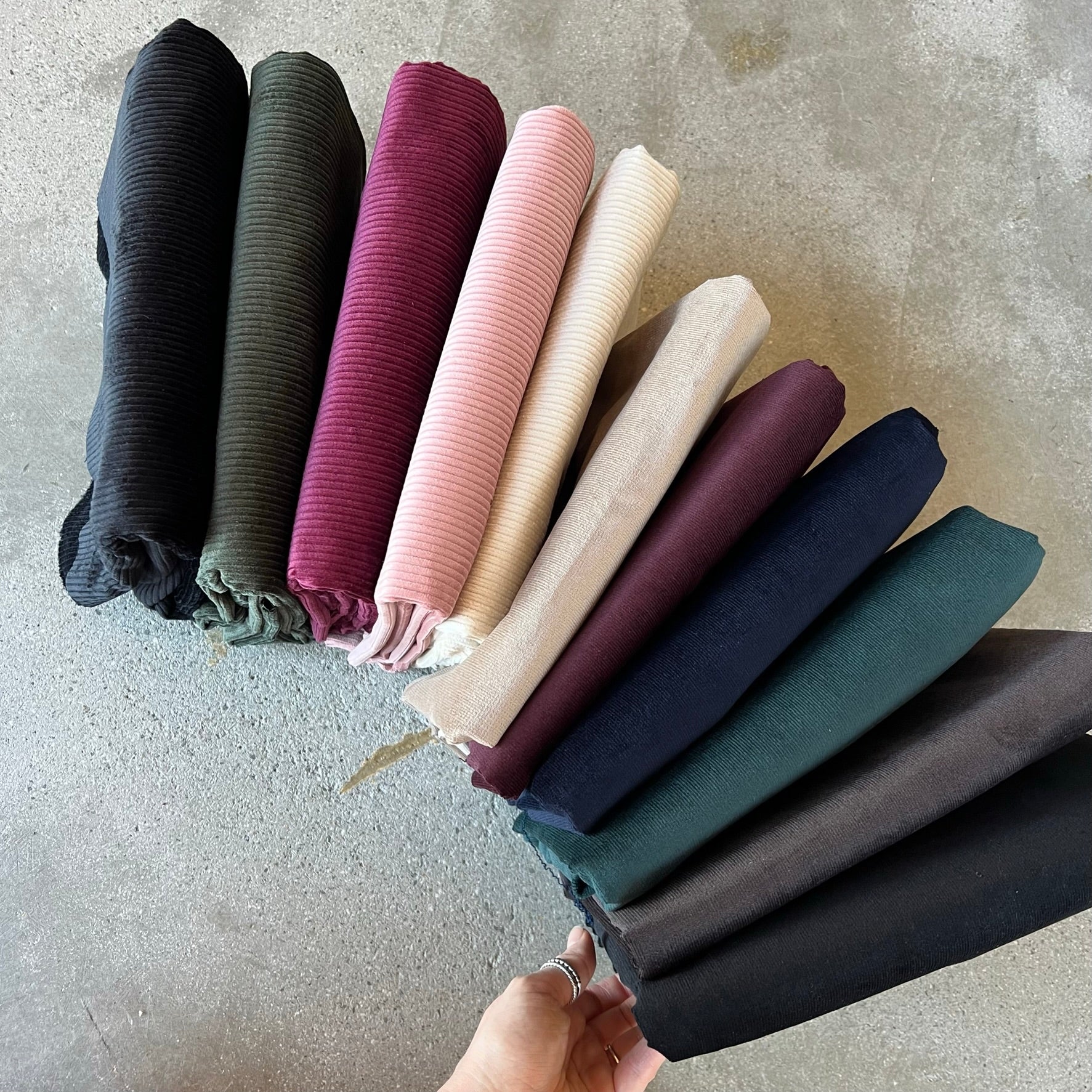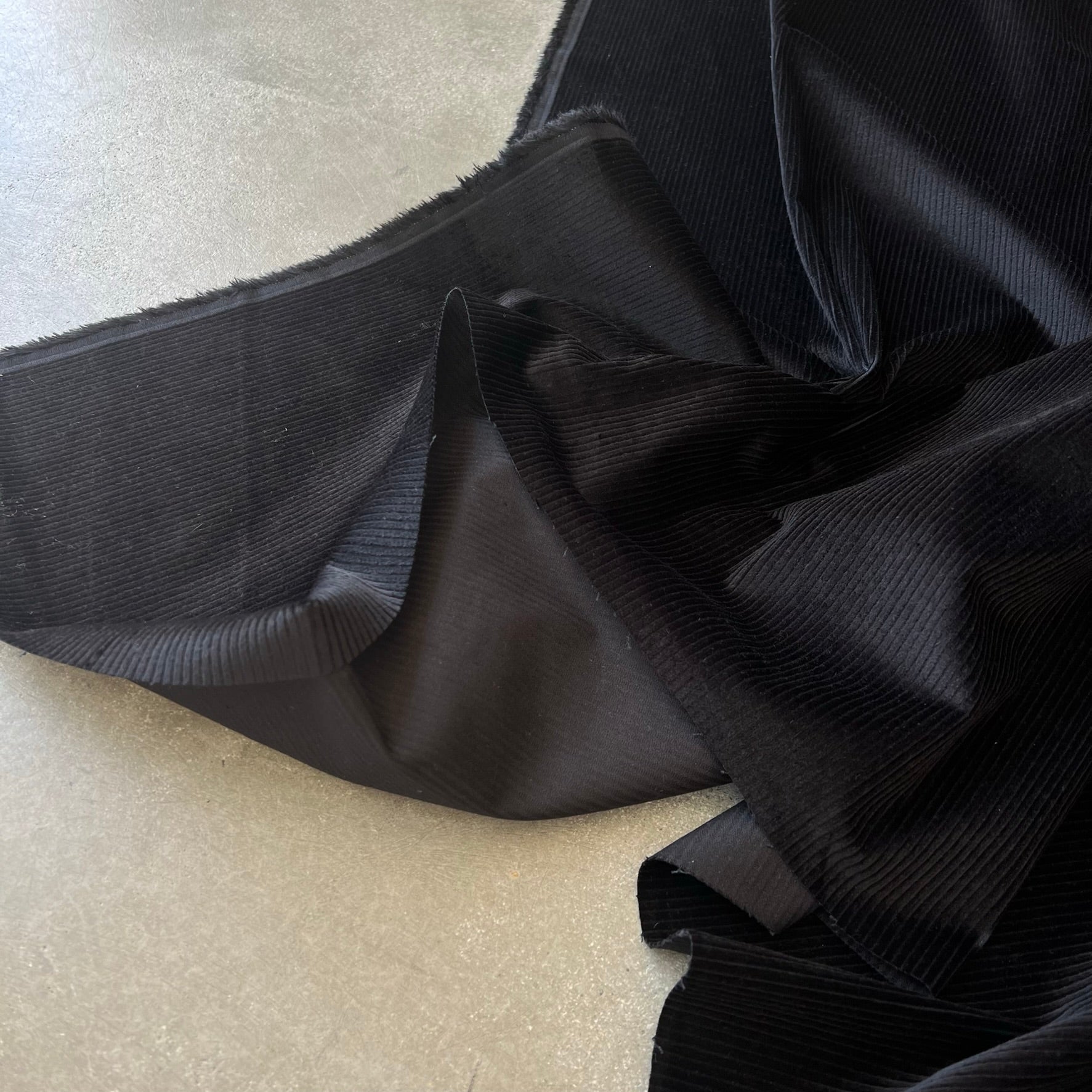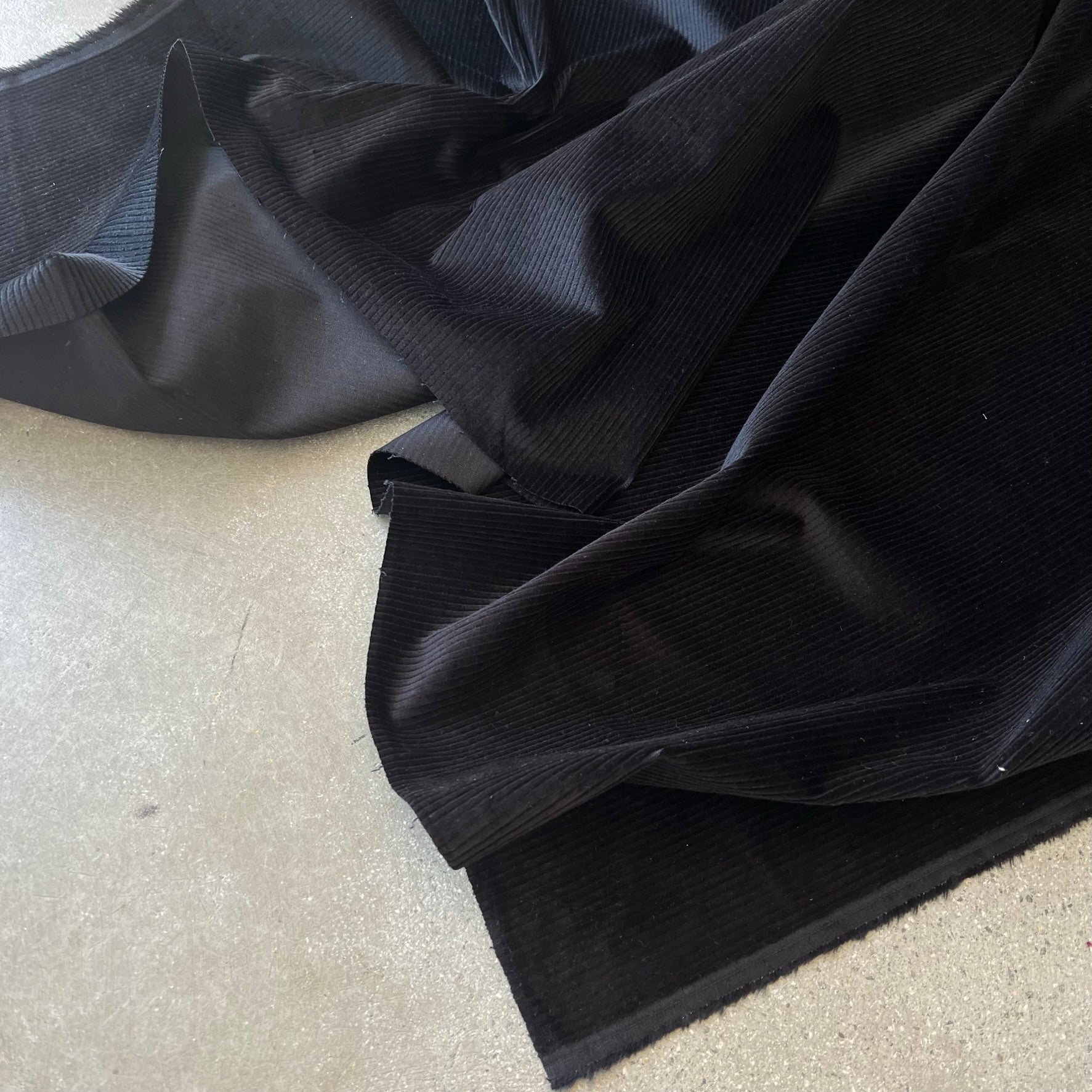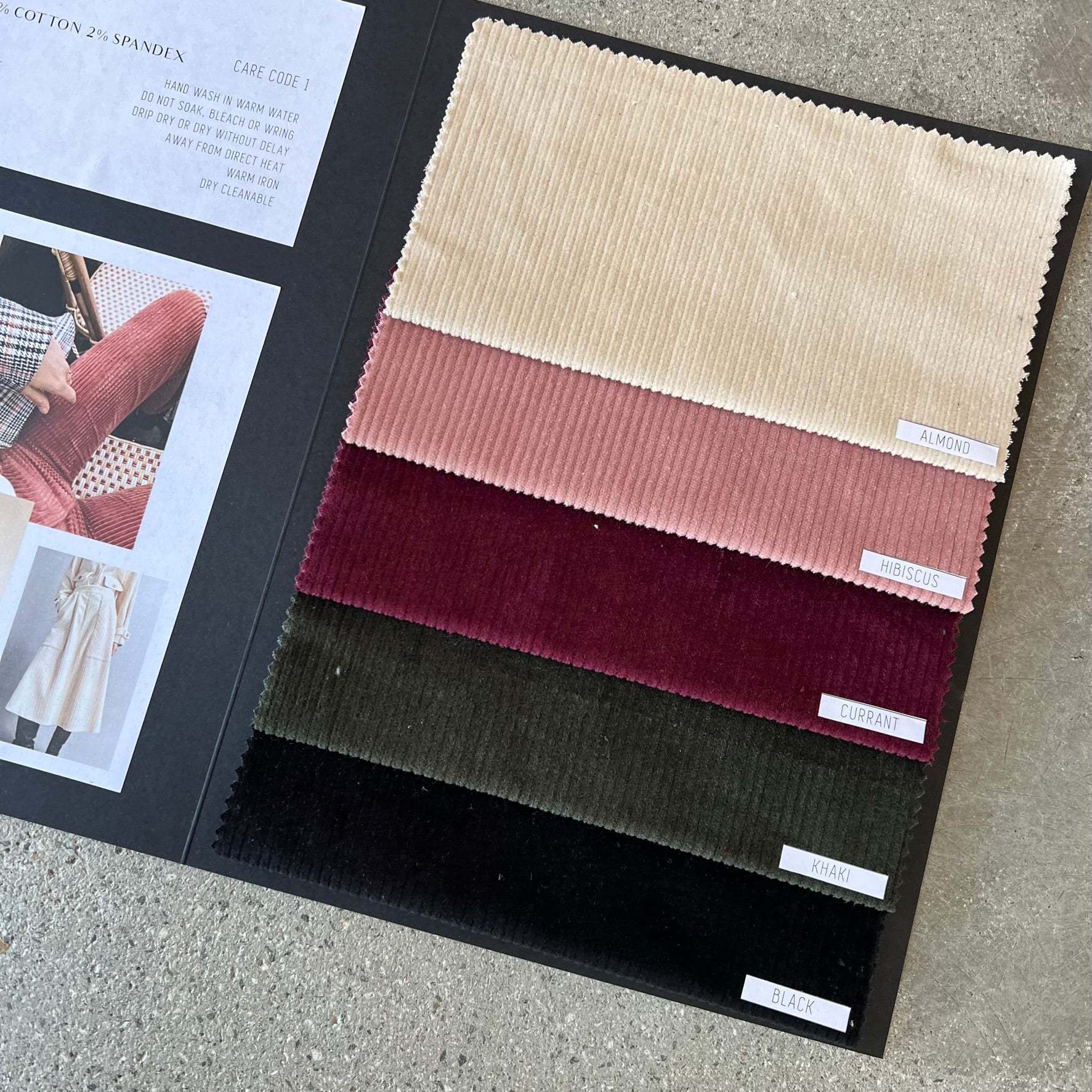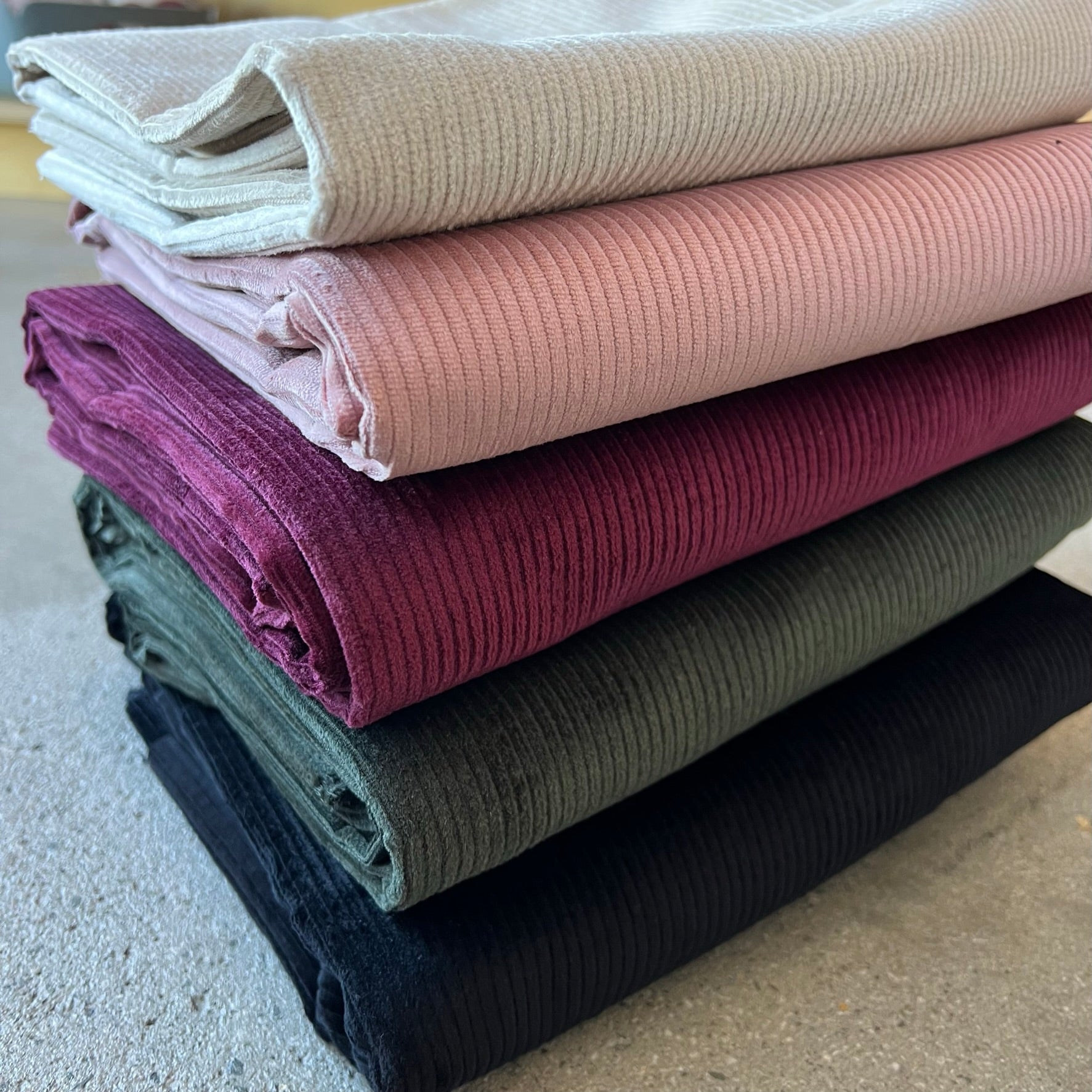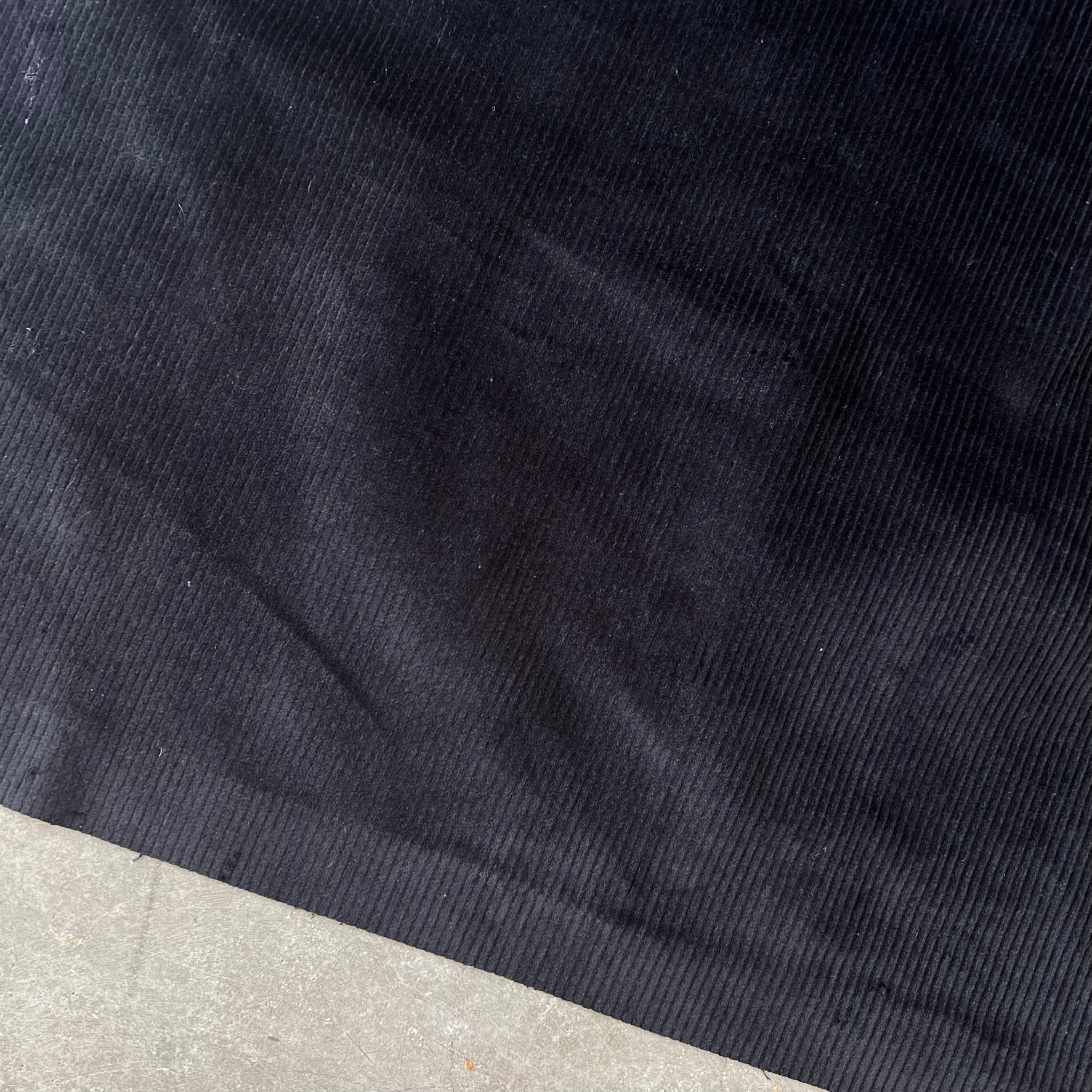 Roger Black $28.00 per metre
Description
Certifications
Care info
Heavy weight 8W cord 325gsm
Composition: 98% Cotton 2% Spandex
Width: 142cm
Weight: 325gsm (Heavy weight, suitable for pants, jackets, skirts ect)
Colour: 
This is a true dark black
*Colour is never exact on screen display, order swatch if unsure
Quality information:
Roger is an 8 wale cord meaning it has 8 wales (ridges) per inch. This is quite a popular width for cord. The cloth has 2% spandex and about 30% stretch. 
*Cord does have a nap so please keep this in mind when buying meterage. A nap is the raised surface on the fabric. When you brush your hand one way it will flatten the surface and if pushed the other way it will raise the fuzzy surface. Thus you want to cut your pants/garment all the same way. 
Origin: Milled in China
Certifications: ;Oeko-Tex 100 Standard
Hand wash in Warm water. Do not Soak, Bleach or Wring. Drip Dry or Dry without delay away from direct Heat. Warm Iron. Dry Cleanable.

Shrinkage: Approx 2-3% if any.
*Always pre-wash fabric before sewing
Roger Black $28.00 per metre
SHIPPING OPTIONS
Australia post Parcel post 
Flat rate of $10 for all cut fabric orders
Delivery time: 3-8 business days 
Australia post Express post 
Flat rate of $15 for all cut fabric orders
Delivery time: 2-6 business days (if your address is outside the Express Post network, it won't be covered by Next Day Guarantee)
Star Track Express 
Flat rate of $20 for all cut fabric orders
Delivery time: Overnight-3 business days (these times only apply in your are in the express post network) Country freight will take longer. 
International shipping 
Varies depending on country- please see shipping section here for more details
SAMPLES
Single
$2 samples can be ordered on any fabric. Approx postcard size
Colour cards
On our main running line items you can buy a card with the full colour range and a feeler atatched. All $10 each.
Shipping
Domestic- Free shipping UNTRACKED letter post.
International- prices vary see rates on shipping section
Introducing
Honey - Hemp/Tencel
Honey is a floaty light weight fabric with a beautiful drape. The Tencel content is what gives it this drape. This cloth also has a really nice surface texture and when machine wash it appears even more.
view fabric
Introducing
Harry Hemp
We are beyond excited to launch our brand new Hemp range called Harry! We have been working on Hemp development for about 10 months now so it is exciting to see the full rolls sitting in our warehouse. We are bringing out a few other hemp lines so stayed tuned for more.
View fabric