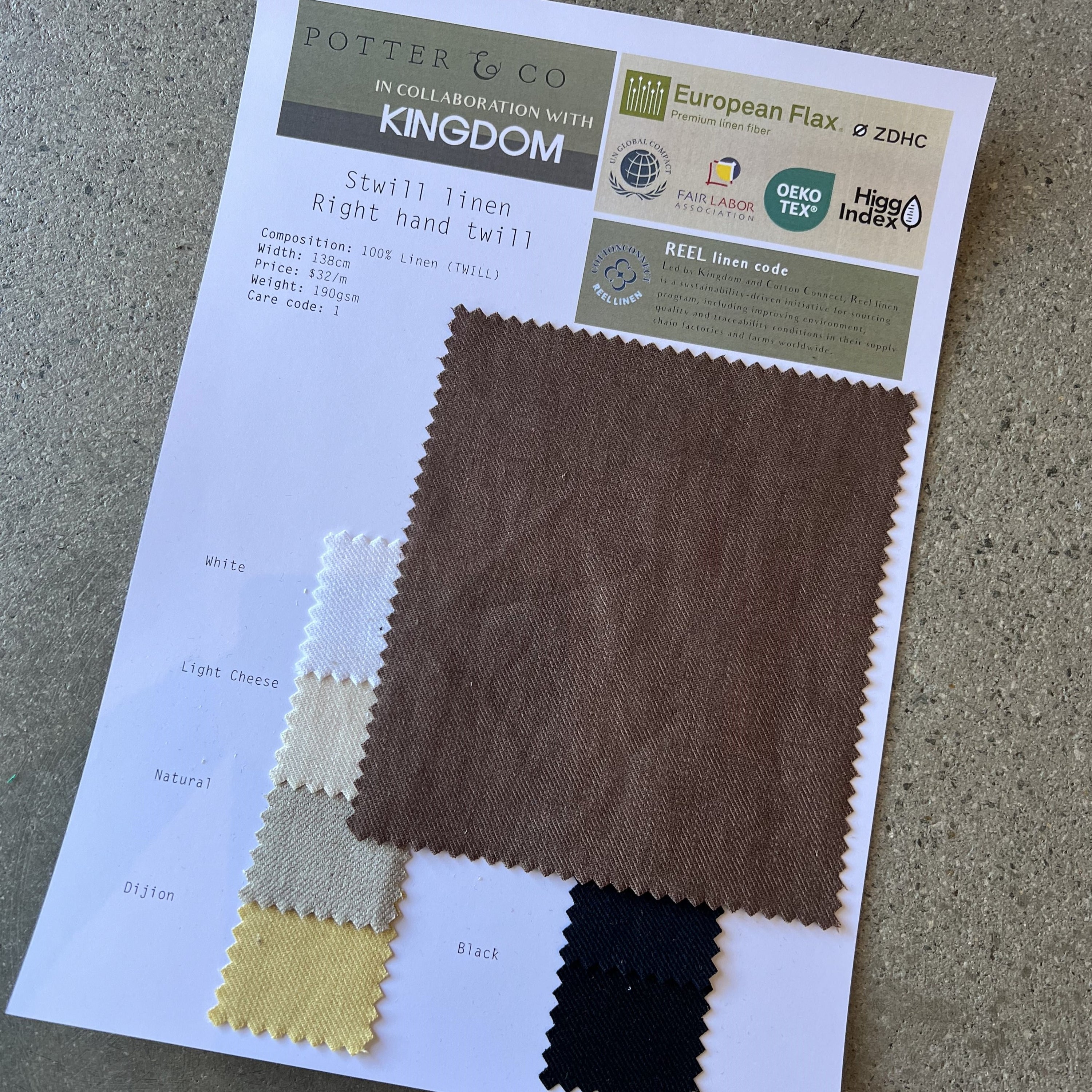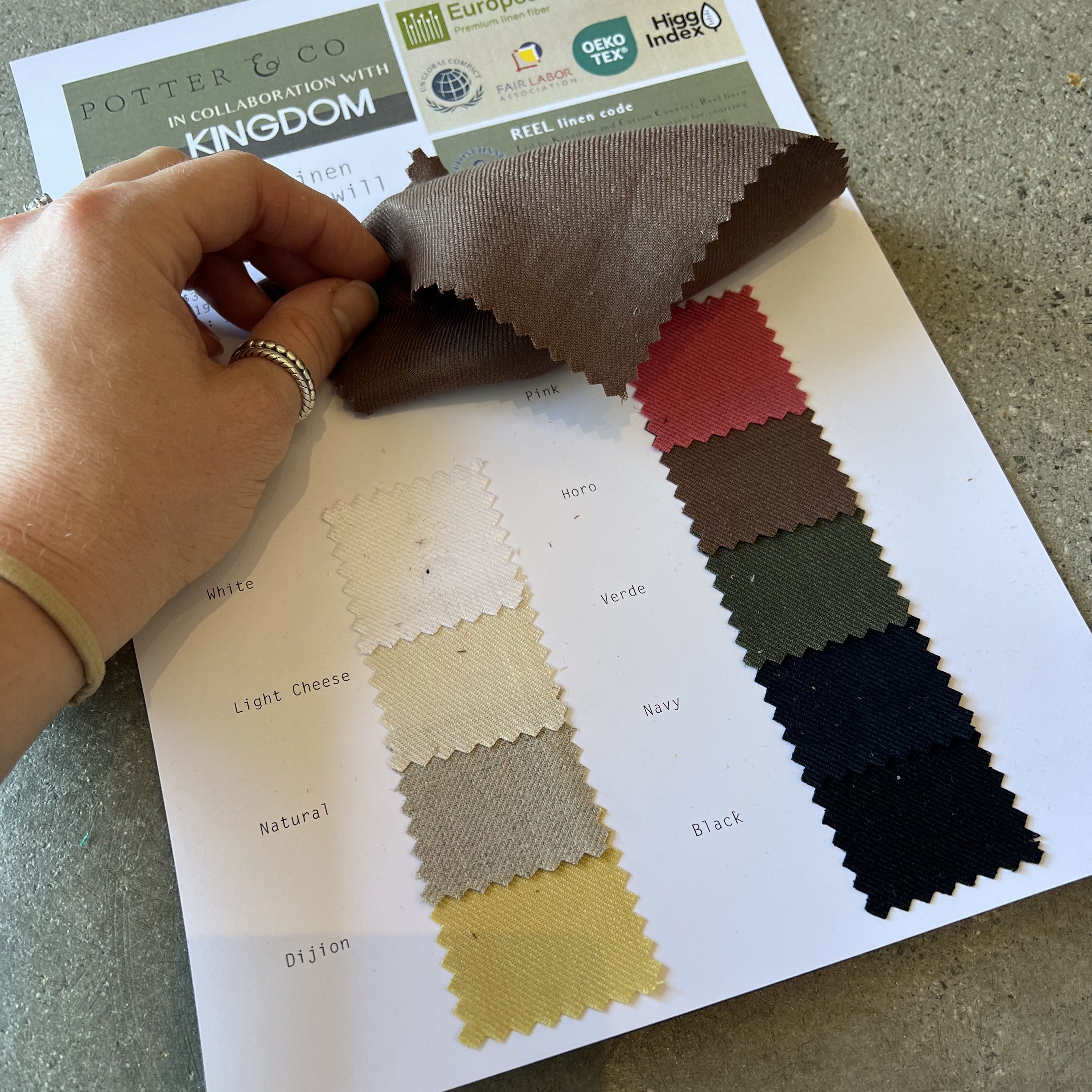 Description
Certifications
Care info
$10 for one colour card- INCLUDES ALL COLOURS AND A LARGER FEELER
We are now selling some of our popular linen lines in full colour cards so you can have the full selection of colours in the one base!
Heavy weight linen twill
Composition: 100% Linen
Width: 136cm
Weight: 190gsm (Heavy weight, suitable for trans-seasonal garments, pants, dresses, jackets ect)
Quality information:
Stwill is a heavy weight linen. It has a right hand s twill giving it a beautiful refined texture. This cloth also has an aero wash applied meaning it has a soft touch and drape. Aero wash helps with pre-shrinking the fabric and also softening linen. It is where the fabric is pushed through tubes under high air pressure. This fabric is solid dyed and each colour in the range is developed and milled exclusively for us.
This quality will soften increasingly with wash and wear - like all linen it gets better with time…
Origin: European flax yarn, Milled in China
Certifications: European Flax yarn, Oeko-Tex 100 Standard
Hand wash in Warm water. Do not Soak, Bleach or Wring. Drip Dry or Dry without delay away from direct Heat. Warm Iron. Dry Cleanable.

Shrinkage: Approx 2-3% if any.
*Always pre-wash fabric before sewing
SHIPPING OPTIONS
DOMESTIC (within Australia)
AUS POST- Standard parcel post
$10 for all cut fabric orders
3-8 business days
AUS POST- Express post
$15 for all cut fabric orders,
2-6 business days 
STAR TRACK- Overnight
$20 for all cut fabric orders
Overnight-3 business days
FREE SHIPPING
Orders over $150
INTERNATIONAL
ASIA: Flat rate of $30 
(HONG KONG, INDIA, INDONESIA, JAPAN, MALAYSIA, SINGAPORE, THAILAND, VIETNAM)
USA AND CANADA Flat rate of $35 
(ALL 13 CANADIAN PROVINCES, ALL 54 US STATES, FALKLAND ISLANDS)
UK AND IRELAND Flat rate of $40 
EUROPE: Flat rate of $45 
(FRANCE, GERMANY, ITALY, NETHERLANDS, NORWAY, SPAIN, SWEDEN, SWITZERLAND, DENMARK)
MIDDLE EAST Flat rate of $35 
(UAE, QATAR)
SAMPLES
Single
$2 samples can be ordered on any fabric. Approx postcard size
**ONLINE ONLY** Samples cannot be ordered in store
Potter & Co
TOTE BAG
Add a little reusable tote bag to your purchase to store all our goodies on your fabric shopping adventures.
100% Organic cotton and printed with water based inks
view
Introducing
HONEY HEMP
We are beyond excited to launch our brand new Hemp range! We have been working on Hemp development for about 10 months now so it is exciting to see the full rolls sitting in our warehouse.
view fabric